Creating Docly™ Schemas
Last updated: 12. Dec 2022
This guide will get you started with creating your own custom Docly™ schemas.
Request developer access
If you don't already have developer access granted, please fill inn and submit your application from the link below:
Enter HTML markup
Simply enter some test HTML markup and click "Save".
Here is some sample HTML you can copy and paste:
The h1 tag is automatically inserted above here.
<h2>This is only a test</h2>

<label>Enter your name below:</label>
<input type="text" name="Name" placeholder="No name entered" />
See https://smartform.ikx.no for further details about how to setup more advanced schemas.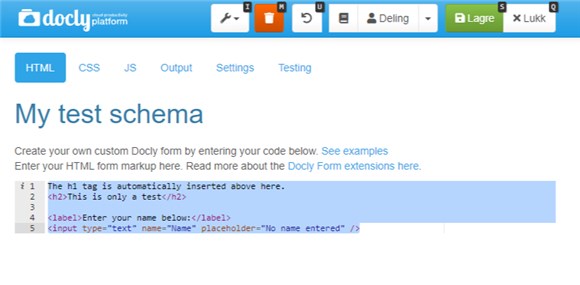 Create a test document using your new schema
More information
Later you can learn how to:
Publish your forms online (e-mail notification and online storage)
Share your custom document templates with other users
Customize the CSS styles (colours and layout)
Make your schema dynamic (show, hide and animate elements)
Add your own functions and calculations (JS / jQuery)
Add output templates to generate web pages or documents (PDF or DOCX)